What makes CW's Riverdale such a great hit?
With the quick approach of the second season's finale, I wanted to share what I love most about this show! But first, why is this YA mystery drama such a hit with audiences of all ages?
Is it the great look of the show? Maybe. The great look of the cast? Perhaps. Is it Archie's midnight shirtless running sessions? For some, definitely. Is it possibly Veronica's string of pearls the thing that keeps us tied to the screen, or does Betty's dark side have that effect on fans? Maybe it's all of that paired with a great detective story. Or maybe it's the way Riverdale combines looks, characters and mystery with the deliberate use of clichés.
.
The tongue-in-cheek writing style might make us giggle and roll our eyes, but it keeps viewers hooked. The show is based on The Archie Comics, and it definitely has an emphasis on its visuals atmosphere, but the clichés add to it.
There are definitely mixed feelings about the show in my circle of friends, and one of the biggest criticisms they express is that Riverdale is too exaggerated and it's not believable enough. But the desired effect of this show is not authenticity at all. It's escapism. From the first steps you take in the world of Riverdale, you are promised a hell of a ride. Jughead Jones is telling us a story, and his narration brings back that same feeling I had when my parents read me stories before bed. It takes me away from reality, it delivers what was promised – a mysterious new world with interesting characters embarking on a wild adventure.
The show keeps itself lively, while it investigates the murder of Jason Blossom. It has an alluring sound-track with an 80's vibe and a limited but vivid colour palette, which compliments the tone of the show, as well as the iconic neon-blazed Pop's Chock' Lit Shoppe, where the characters are seen often, sipping on Pop Tate's mouthwatering milkshakes.
For me, Riverdale has it all! The looks, the drama, the romance and the mystery, and it is by far one of the best mystery programmes I've seen lately, right alongside Stranger Things, Dark, and Top of the Lake, which are also available on Netflix.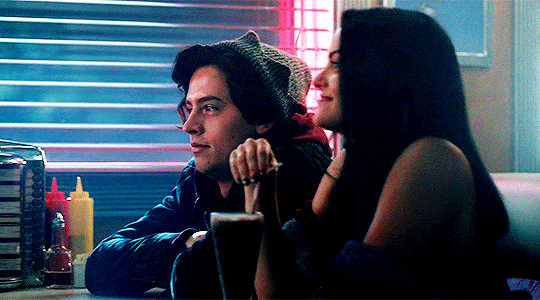 Happy Riverdale Binge!